Conventional Dentures in Salem, NH
Living without most or all of your teeth is hard. Along with making normal daily tasks difficult, such as eating and speaking, missing teeth can have a negative impact on a person's self-esteem. At Honest Care Dental, Dr. McMillan and his compassionate team are committed to helping people with missing teeth restore the health and appearance of their smile with conventional dentures.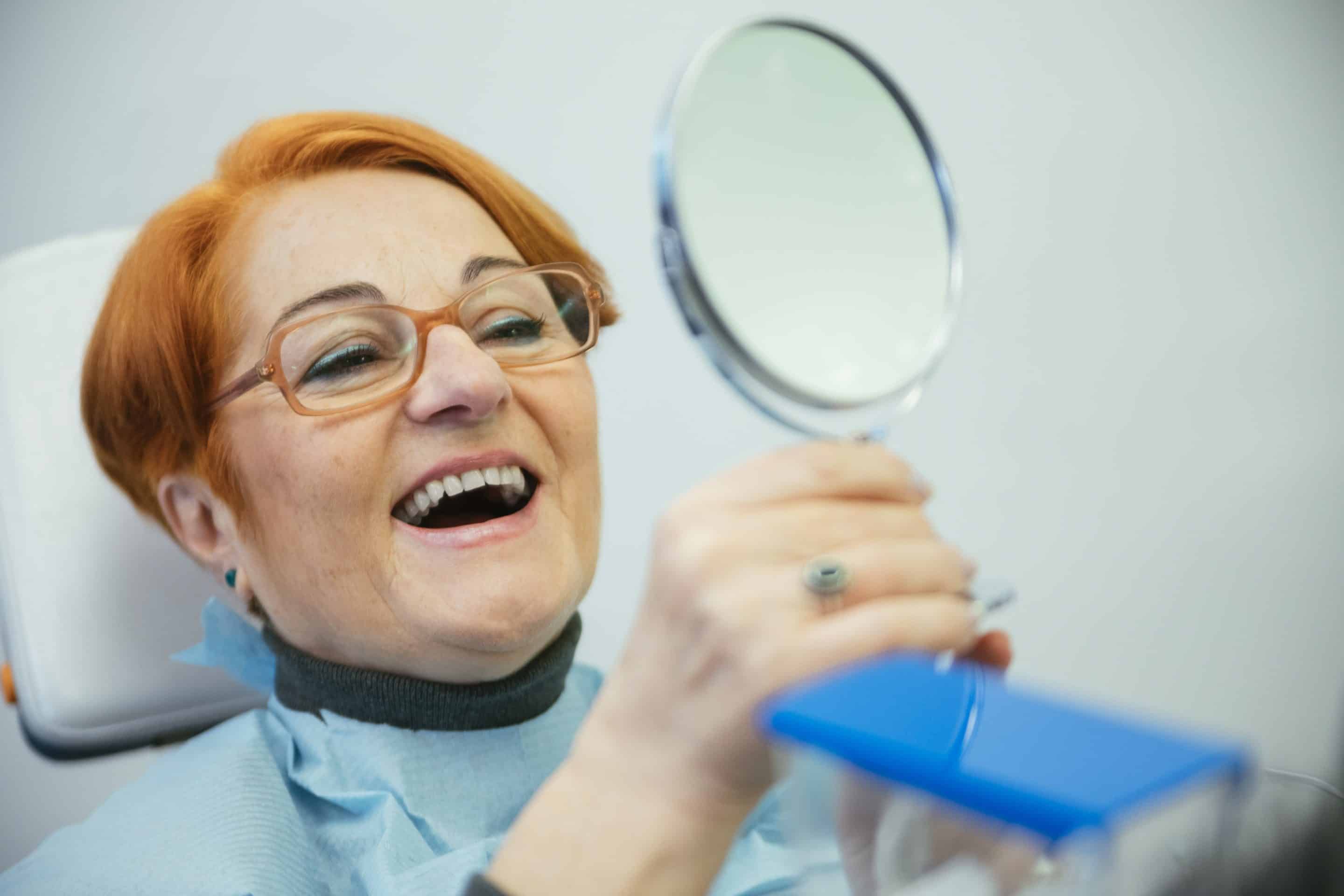 Conventional Dentures Overview
Conventional dentures are a prosthesis that is used to replace a full set of missing teeth. Unlike other types of dentures, dentures cannot be worn until any remaining teeth have been extracted and the gums have recovered completely. They are custom-made to fit securely in one's mouth after the remaining teeth are removed and tissues have fully healed. This process can take several weeks depending on the patient.
Happy. Healthy. Honest.
We Appreciate You and We are Grateful for Your Trust.
Denture Services Process:
Dr. McMillan will surgically remove any of your remaining natural teeth to prepare your mouth for the dentures.

Next, he will discuss with you how you'd like your smile to look with dentures.

Then, an impression of your mouth will be made and the dentures will be customized to fit your gums perfectly.

Once the dentures are made, you may have several trial fittings to ensure they fit as securely and comfortably as possible.
The false teeth in conventional dentures are made from porcelain, plastic, or a combination of the two. Additionally, they can benefit people missing most or all of their teeth in a number of ways, including:
Restoring the natural appearance of their smile

Making normal activities easier, such as eating and speaking

Relieving discomfort caused by damaged teeth

Improving their oral health

Boosting their self-esteem
How Long Do Conventional Dentures Last?
Over time, conventional dentures will need to be replaced or adjusted to maintain the proper alignment of your jaw. When a person is missing all of their teeth, jaw alignment will inevitably change due to bone loss and gum shrinkage. This can cause dentures to become loose and uncomfortable. As a result, your dentures should be replaced every 5-10 years depending on the condition of your mouth, gums, and jaw alignment. Even though people with dentures no longer have any of their natural teeth, it is still important to visit the dentist for routine exams to ensure their gums and oral cavity stay as healthy as possible.
Post-Op Instructions for Dentures
Your new dentures might feel strange at first. It will take some time to become used to them and get back to eating normally. Here are some tips for adjusting to your new dentures.
Take Smaller Bites
Chew slowly and softly
Be patient with yourself!
How To Care for Dentures
Although they are not your natural teeth, it is still important to take care of your oral health with dentures. To care for your dentures properly, remove them every night and put them in a denture cleaning solution. Additionally, wipe your gums off and the top of your dentures to remove any remaining food particles. 
Cost of Conventional
Denture Services
This cost for conventional dentures depends on what type of dental insurance plan you have. For more information on what your particular dental insurance policy covers, please contact our office.
Honest Care Dental Can Help You Restore Your Smile
If you are struggling with the discomfort, inconvenience, and embarrassment of living missing teeth, help is available. At Honest Care Dental, we are proud to help people of all ages improve their oral health, appearance, and confidence with restorative dental treatments, including denture services. If your poor oral health is making you hesitant about seeking professional dental care, know that our dental team offers judgment-free care to every patient we have the pleasure of assisting. Don't postpone your oral health for one more day. Call today to schedule your free consultation with Dr. McMillan today!